An Auto Manager for your Social Platforms
Tired of constantly updating your business's social media accounts? Get our Social Media Manager which does much of the work for you. Filled with pre-made posts & templates, you can easily create ads and post to your Facebook and Twitter (Instagram coming soon).
Set Your Own Schedule For Your Social Media Accounts
Choose when and how often you want your posts to appear. Have your ads display weekly or daily, it's up to you! Set when you want content to start posting and when you want it to stop... no reminders required!
Schedule your posts in 3 Easy steps
Link your social media accounts just one time
Select from one of our pre-made templates or add content via upload or product UPC/SKU
Set whether to post once or post as part of a loop that recurringly updates
Manage Multiple Social Accounts through 1 Dashboard
Have different social accounts for different businesses? No worries, you can automatically post to separate accounts and manage all platforms from one portal. This is ideal for multi-chain locations or ad agencies who manage multiple clients.
Build Posts With The
Template Builder
Watch Video
With our easy to use Template Builder you can easily create vibrant posts with your business's look and feel. Easily import & save your logo, add product information with a SKU, or enter any message you'd like to post! With hundreds of templates to choose from, you're sure to find a template for you!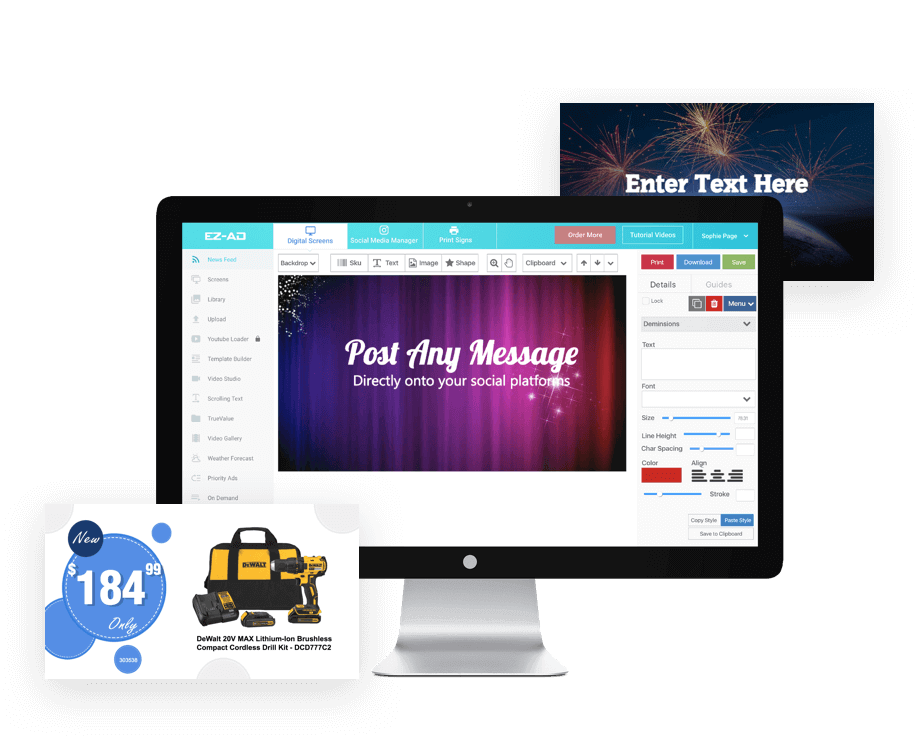 Add Captions on Videos with with Video Studio
Take videos from your store or share educational vendor videos directly to your customers. Add captions with information on products and processes that tailor to your audience. Video Studio allows you to integrate your brand with the content you post!
Watch Video
Assign different user accounts with
different levels of privileges
All accounts come standard with Admin privileges, meaning you can create user accounts that can manage different accounts or perform different functions. This is ideal for giving clients & employees restricted access.
Reply Directly to Comments & Likes
Engage directly with your customers by viewing likes and replying to comments from within the Social Media Manager.
Other EZ-AD Products
EZ-AD believes in creating an ecosystem of products
that can all easily integrate together. Check out our other features below.
Sign up for a FREE TRIAL Account!
Fill out this form and our associate will contact you with your FREE TRIAL account details